Visit us at upcoming print fairs
The 2014 New York Satellite Print Fair
Bohemian National Hall, New York, NY
November 7th-9th, 2014
R. E. Lewis & Daughter looks forward to exhibiting in the 2nd Annual NY Satellite Print Fair at the Bohemian Hall, November 7th through 9th, 2014, at 321 73rd Street, between 1st and 2nd Avenues, in New York City. We will be showing prints from our Spring 2014 catalogue: Old Master Prints & Modern Prints, which contains offerings by Albrecht Dürer, Giorgio Ghisi, Adriaen van Ostade, Nicolaas Lauwers, Francisco Goya, Thomas Rowlandson, Henri Matisse and Pablo Picasso. This will be in addition to our stock of Old Master to Modern prints, including etchings by Rembrandt, engravings and woodcuts by Albrecht Dürer, and prints by Francisco Goya, Eugène Delacroix, Charles Meryon, James McNeill Whistler, late 19th century French masters such as Pierre Bonnard, Toulouse-Lautrec, German Expressionist prints, and prints by Matisse and Picasso. We have been in business since 1952, and the present proprietor, Jan Lewis Slavid, the second generation in the business, is carrying on the family tradition of expertise and connoisseurship.
The 2014 San Francisco Fine Print Fair
January 24-26, 2014
Golden Gate Club, The Presidio Trust
San Francisco, CA
The annual San Francisco Fine Print Fair presents a comprehensive survey of printmaking by renowned artists. All works are for sale, with many in affordable price ranges, from traditional Japanese woodcuts and old master engravings to 19th century etchings and impressionist lithographs to 20th century modernist and contemporary editions. The Fair is organized by the International Fine Print Dealers Association (IFPDA), a non-profit organization of expert art dealers, and the eighteen exhibitors represent a cross-section of its membership from across North America and Europe.
The 2014 Portland Fine Print Fair–Portland Art Museum
January 31 - February 2, 2014
Portland, Ore

The first annual Portland Fine Print Fair to be hosted by the Portland Art Museum in the historic Fields Ballroom (1119 SW Park Avenue, Portland, Ore.). For this inaugural year, 21 of the top original print dealers and galleries from North America and Japan will participate, bringing their important works
from virtually all periods and methods of printmaking and a wide variety of countries of origin. This fair will be a rare opportunity for the Pacific Northwest public to have access to such a diverse range of fine original prints and highly knowledgeable dealers. The Museum Curators will offer informative tours of the fine print collections on display.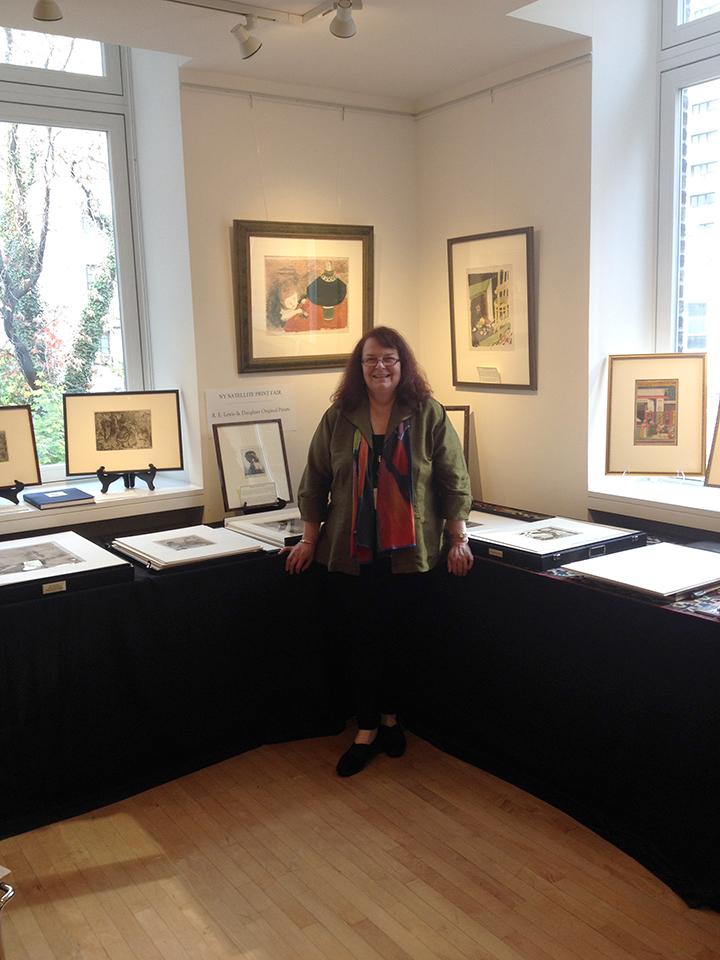 R. E. Lewis & Daughter
P.O. Box 6126
San Rafael, CA 94903
Tel: (415) 472-7021 Fax: (415) 472-7043
email: jls@relewis.com