Jan or Lucas Duetecum
(Second half 16th century)
CARTOUCHE WITH SEVEN SATYRS AND THREE WOMEN, after Cornelis Floris. Title page from Grotesque Ornament Designs (Libro Secundo), published by H. Cock, 1557. M. de Jong and I de Groot, Ornamentprenten I, Rijksmuseum, 1988, p. 65: 76,1. Etching with engraving, 300 x 209 mm (11 13/16 x 8 1/4") plus margins. A fine, rich impression. Paper slightly toned, pale stains in margin, horizontal printer's crease. Provenance: A. Hyatt Mayor.
$1,800.
Other works by Jan or Lucas Duetecum:
STREET SCENE WITH TREE IN CENTER
VIEW FROM ABOVE A CANAL WITH BRIDGES.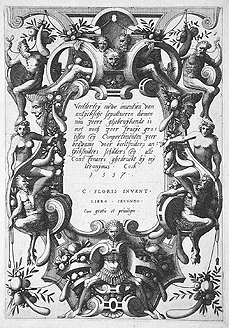 click on image to enlarge